Join FOTO as a OCEAN member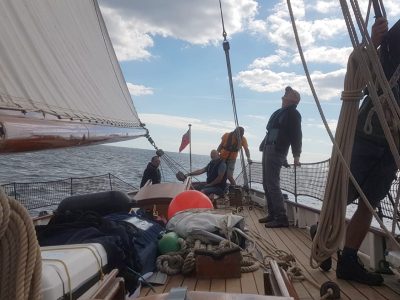 If you have spent any time at sea or around boats you will understand the healing benefits that the Ocean can bring.
By becoming an Ocean member you will be helping others to experience all of that and more since your donation will allow us to teach others how to maintain historic wooden vessels whilst returning them to their lives, families and communities.
You will receive regular updates and information and a chance to meet other likeminded members, we intend to have FOTO member events and hopefully future FOTO day sails on these lovely vessels.
We would love to hear your sailing stories and any ideas you may have regarding the work we do.
                Minimum Annual donation £60
Please fill out your contact details here.
FOTO Membership Subscriptions are collected via JustGiving.
We will always store your personal details securely, and they will only be used by the Tectona Trust. By signing you give us consent to use your data to contact you via email and/or phone about Tectona, Olga, and related issues which may be of interest to you. We promise to keep your personal details safe and we will not share your data with any third-party organisations. For more information please see our
Privacy Policy
.