TECTONA: Research Ship
Tectona is an "Internal Research" ship. We are familiar with the idea of a research ship looking outward to understand the environment, marine life or conservation. This project looks inward to try and deepen our understanding of the processes of learning and change happening in the people on board.
So far there have been 2 studies carried out on Tectona since 2010. The first was part of the Blue Gym project, a qualitative pilot assessment of the effect a 5-day Sail training trip aboard Tectona had on the confidence, self-esteem and empathic awareness of a group of 11 challenging Year 9 school students. This unpublished report was carried out by the University of Plymouth.
The second is both a quantitative and qualitative study focusing on the 2012 Voyage of Recovery, commissioned by the Tectona Trust and carried out by Prof Charles Abraham at the Peninsula Medical School and now available here on this website.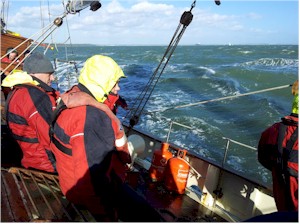 The study revealed several unexpected challenges, often relating to the potentially chaotic world of Rehab. One of these was the difficulty of finding people to act as appropriately matched controls. In the end, this meant that the numerical results were flawed in a way that precluded publication.
The rest of this study, including an illuminating Introduction, is now viewable here on the Tectona Trust website.
The qualitative part of this study, based on interviews with voyagers over a period of time is now available here.