At Sea With Recovery: Medical Students join the Voyages Of Recovery.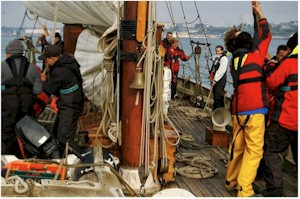 For the first time in September 2013, we welcomed two Students, Charlie and Laura, both in their 4th year at the Peninsula (soon to be Plymouth) School of Medicine and Dentistry.
They were in every sense pioneers, trying out a new Student-selected module called At Sea With Recovery. The idea was to provide future Doctors with a genuine insight into the lives, stories and preoccupations of people in Recovery, and where better to do this than going offshore in an old gaff ketch for a week with a crew of Rehab people!
The results were truly amazing, with the Students rising to every challenge from getting down to basic living with 10 new people in the confined space on board Tectona, to dealing with the dreaded sea sickness. About the latter Charlie wrote: "Instead of feeling sorry for myself and writing the rest of the day off due to sickness; I carried on as if nothing had happened - it was oddly refreshing."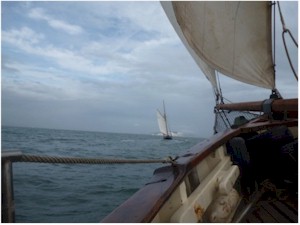 The seminars before and after the voyage prepared the Students and helped them get the most out of the voyage while their presentation at the Medical Humanities Day in March was a colourful feast of new experiences and learning about this important subject.
Laura and Charlie were a huge asset to their voyage, and their interest and involvement in the whole Tectona project have been very valuable indeed.
We again hosted a further 2 students for one of our 2014 Voyages of Recovery as part of their At Sea With Recovery module. This was once again a considerable challenge for them - stepping right outside the comfort box! As had their predecessors, they rose magnificently to the occasion and discovered a wealth of new understanding about the world of addiction and Recovery, about the sea and about - themselves! Their own reports will be posted shortly.
Reports by Students who took part.
Latest Reports from Medical Students